Cannes 2017: Competition Blog
Screen International's chief critic Fionnuala Halligan
May 23
A mixed day, in which Cannes celebrated its 70th anniversary but also stopped at 3pm to commemorate the tragic events in Manchester. As Palais des Festivals staff tacked down even more red carpet for the offical celebrations tonight, the festival stopped at 3pm to pay its respects to the dead in Britain's horrific terrorist attack, and fireworks were cancelled (along with a promotional event for Cars 3 which had been set to feature Lewis Hamilton).
Radiance
Naomi Kawase's warm Radiance played out to less some frosty reviews at Cannes. Some fell for this wistful, soft-edged tale of a beautiful young woman (Misaki Ayam) who writes film audio descriptions and a formerly world-famous photographer (Nagase Masatoshi) who has lost his sight. Polite yet obvious, it made much play of soft-focus light on Ayam's face and the dark of Masatoshi's existence, although there was also a poignant examination on the marriage of words with images and space in there. Many, many close-ups on Ayam's unsually wide eyes, however, took their toll as they gazed at their surroundings and interpreted them back to Masatoshi.
It's a film which fits well into Kawase's body of work, and will play to her audience without extending the fanbase any. Cannes has long been a devotee of this warm, emotional Japanese director, who brought some light into an otherwise somber morning as the news arrived from Britain.
May 22
The Day After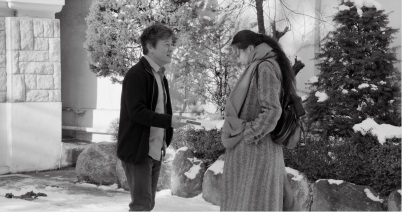 As is well reported, black-and-white drama The Day After is Hong Sangsoo's third film this year, the second at Cannes, and the only one not to be centred around the romantic travails of a film-maker. It's also the best, albeit in a slyly tentative way. This time, the beleagured man in the middle of three women in Hong's film is an unfaithful book publisher (played by Kwon Haehyo). Cho Yun-hee plays his angry, menopausal wife; Im Sae-byuk is his girlfriend, and The Handmaiden's Kim Min-hee is a smart young Christian woman who starts to work for him. (Kim, reportedly in a relationship with the director, has starred in all his 2017 ouevre).
There's something very lovely and unique about Hong's style when he's on form, and he is here; his sudden pans and close-ups, and the way his characters talk so much, chatting, crying, shouting, over endless cups of coffee and late-night soju. The dialogue swerves and circles, and Hong has cut the chronology to increas that effect. The Day After is a subtle, intimate film which is bound to be rediscovered after the festival when attention spans aren't cut quite so short. And quietly, the critics on Screen's jury responded, divided mostly between three and four stars, with the odd two dotted in.
The Killing Of A Sacred Deer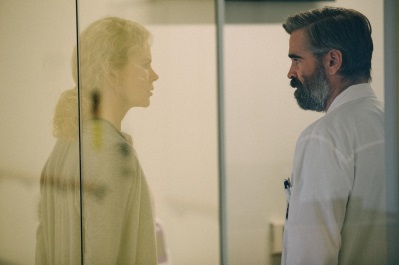 Fabulously polarising — the Screen Cannes critics jury loved it or loathed it, with no in-betweens - Yorgos Lanthimos' coldly shocking The Killing Of A Sacred Deer opens with a shot of a beating heart, and it turns out to be an ancient, bleak one. The story soberly pulses out in clinical settings with characters who seem stark and hidden until, about mid-way, the viewer suddenly realises that we are not really walking the sterile corridors of an American hospital with an Irish heart surgeon (Colin Farrell), his opthalmologist wife (Nicole Kidman) and their children (Raffey Cassidy and Sunny Suljic). Instead Lanthimos, with his regular co-writer Efthimis Filippou, have set us down the path of classical Greek tragedy Iphegenia In Aulis by Euripedes - who also wrote Medea, if that's any sense of how brutal this gets.
Irish rising star Barry Keoghan plays Martin, an unexplained presence in Farrell's life: the least said about his character in advance, the better, except to note that this film fields tremendous performances all round.
Nicole Kidman is at the top of her game as the steely, controlling wife and mother; Colin Farrell is cold ballast as the noble, hubristic patriarch, and the younger actors all impress. It's very much the kind of film, though, where you stand up to realise the person next to you has a violently opposing view of this chilling piece. With A24 set to release in the US, Sacred Deer looks commercially promising - even more so than Lanthimos' last, The Lobster - and it would be a surprise not to see Kidman positioned for awards play.
May 21
Happy End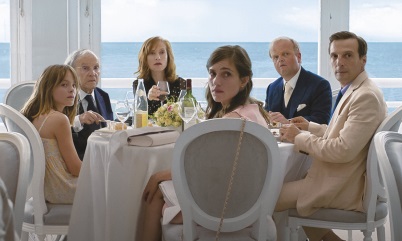 In the fullness of time and academic research, Michael Haneke's Happy End may find a robust appreciation society: the first screening hit the Palais des Festivas with a muffled thud, hoever, as critics discovered something never previously encountered: minor league Haneke. Time for the cliche that minor-league Haneke still outstrips the competition, or Competition? Perhaps.
The second family drama of the day after The Meyerowitz Stories, this was typically precision Haneke - but instead of exploring new ground, it skipped through his greatest hits. Isabelle Huppert and Jean-Louis Trintignant return from Amour, again playing a father and daughter, Anne. The wealthy Laurent family is fleshed out, however, with her troubled son (Franz Rogowski), philandering brother (Matthieu Kassovitz), his newly-arrived 13 year-old daughter Eve (Fantine Harguin, with 86 year-old Trintignant, the most interesting characters in the piece). Toby Jones pops up as Anne's British banker boyfriend.
Happy End becomes a chamber piece as this family and their satellites play several stories out. Mobile phone footage abounds, sprinkled with a lengthy interlude spent watching two minor characters Facebook-dirty to each other. For quite a small unit, the family seems particularly accident prone, between accidents, suicides, and euthanasia. By the time its scattered situations begin to build to something, it's time to leave.
Distributors may well be disappointed this morning, although outside Cannes Happy End may find a different reception. With moments of humour - although this is certainly no comedy - it will intrigue followers of the two-time Palme D'Or winner.
The Meyerowitz Stories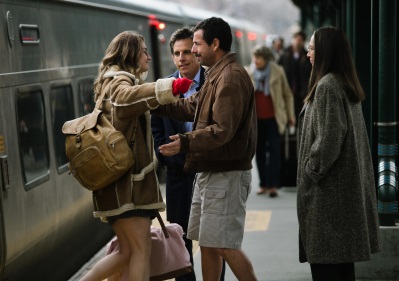 The main controversy of Cannes Competition so far is the appearance of Netflix, certainly not what appears in a Netflix film.
The Meyerowitz Stories (New And Selected) treads familiar ground for director Noah Baumbach (The Squid And The Whale), but this is still a warm and complete story of a family blighted in individual ways by a domineering patriarch (Dustin Hoffman). Well acted by an ensemble which includes Ben Stiller, Elizabeth Marvel, Emma Thompson, Grace Van Patten and Candice Bergman, it features a particularly strong performance from Adam Sandler, playing it straight as the 'loser' older son. Enjoyably detailed and with a humorous tone cloaking some serious and painful universal truths, Meyerowitz is nonetheless conventional, a safe film for a 70th edition Cannes which approaches the end of the first weekend with little in the way of real fireworks or danger.
Still, with Michael Haneke's Happy End to play to press tonight, followed by Yorgos Lanthimos tomorrow with The Killing Of A Sacred Deer, the agents provacateurs have yet to hit their stride.
Sandler impresses in Meyerowitz as Danny, the older, unappreciated son of retired sculptor Harold (Hoffman) and never-employed, soon-to-be-divorced devoted dad of Eliza (Von Patten) who is off to college. Emma Thompson's Maureen is his alcoholic step-mum, Ben Stiller's Matthew is his half-brother, while Elizabeth Marvel makes an impression as his ignored sister Jean. It's no surprise to see Baumbach layer a story of a dysfunctional family in New York, but what's so agreeable here is how every member is so fully and skilfully sketched. The structure helps; setting this up in chapters enables different perspectives to come to the fore, with a satisfying resolution for all: the first happy end of this first Sunday of the festival.
May 20
Redoutable
As it turns out, Redoutable is the film about a director that would have been an excellent opening film for Cannes, after the film about a director which did open it (Ismael's Ghosts) landed with a thud. The director in question is Jean-Luc Godard, as seen through the eyes of Michel Hazanavicius (The Artist). Led by a dynamic, absorbing performance from Louis Garrel, this light, bright and breezy French pastiche is based on the memoir by Godard's first wife Anne Wiazemsky and focuses heavily on 1968, a pivotal year in both their marriage and French politics (the only year Cannes came to a halt, after Godard and his compatriots Truffaut and Lelouch forced a shut-down after five days in sympathy with the student protests).
Unfortunately, Wiazemsky, 19 at the time of her marriage (he was 37) and a philosophy student, gets short shrift for the most part of the film, which seems regrettable in the light of the fact that it was her book which prompted the piece. Stacey Martin (Nymphomaniac) isn't awarded a role to play inasmuch as a series of loving looks and nude shots. While eventually Anne does have her say, it's Garrel's depiction of the amusingly misanthropic, buffoonish revolutionary which ends up being the film's true highlight and selling point (a potential Best Actor contender at this year's festival isn't out of the question.)
The pastiche elements are entertaining throughout, the pleasure rising exponentially the more you know about the Swiss-French auteur, although die-hard Godard fans may resist. It's certainly not for the uninitated, but there could be an eager art-house crowd - those who devoured 2015's Hitchcock/Truffaut - who turns breathless for this.
BPM (Beats Per Minute)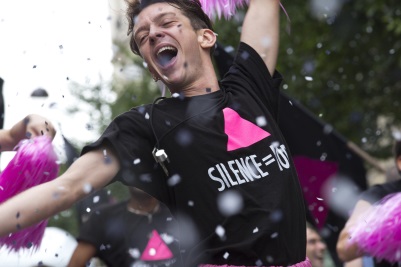 Director Robin Campillo's personal experience of AIDS activism in Paris in the 1980s informs the moving BPM: Beats Per Minute, which marries an authentic story with a superb ensemble cast to lovingly recreate a desperately sad era which was also, he reminds us, joyful and angry and loving and, in a bravura hospital sequence, tenderly sexual. While it perhaps travels the same ground as Angels In America, it combines a fascinating account of ground-level activism with a convincing love story which we know to be doomed.
Campillo tracks the progression of the disease in young firebrand Sean (Nahuel Perez Biscayart, excellent) with a clinical precision even as the scenes involving ACT UP Paris's activism (led by Adele Haenel) and increasingly-urgent weekly meetings are shot almost documentary-style. In between, strobing dance-floor sequences are, oddly, enchanting.
BPM is quite a tearjerker, and its sexual open-ness is welcome (although still tasteful). It may ultimately have more resonance for French audiences watching their own story play out, but it's a strong, moving reminder of a time - and people - who should never be forgotten and, as such, will make a universal connection.
May 19
The Square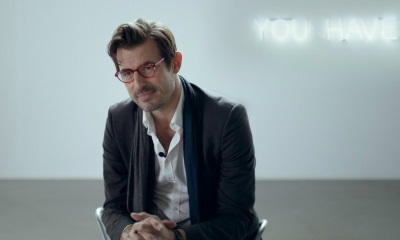 Expectations were high for Ruben Östlund's follow-up to Force Majeure, and while The Square delivered, it was in fits and starts and parts and bursts, as this talented Swedish director indulged himself in a long film of many brilliant, disjointed ideas and a narrative that stopped every now and then to take in the scenery. If it wasn't quite as emphatic a success as Östlund's fans had hoped, The Square was certain on one score: Danish actor Claes Bang has made a significant breakthrough.
As Christian, the suave curator of Stockholm's swish museum of contemporary art, a multi-faceted character of many contradictions, Bang eases The Square through its difficulties, and shines in the best parts - which include his liason with a journalist played memorably by Elisabeth Moss (although co-star Domic West appears in more of a cameo than his high billing might suggest). As the easily confident Christian embarks on a series of mistakes which set the film in motion, Östlund skewers the art world and its lofty intentions, contrasting its bubble - or square - with those displaced outside.
Highlights include an onstage Q&A disrupted by a man with Tourette's ("camel toe!" being amongst the more memorable interjections); a high-falutin' dinner provoked by a performance artist (played by Terry Notary); and pair of renegade marketing millennials who launch a toxic but successful viral campaign for the museum's upcoming exhibition. There are tense moments too, when Christian's brio gets the better of him. Yet an interlude where he jumps around a garbage dump or a sequence with his children performing in a pageant, for example, seem frustratingly to be there purely because they look good. While theThe Square can be forceful, these distractions mean it's in a more minor key.
Okja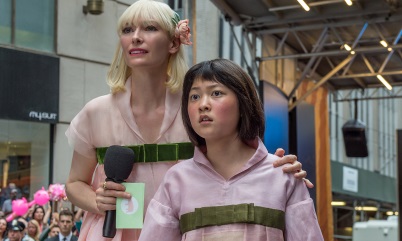 Okja
is the second film in Cannes Competition, after Wonderstruck, to come across as a child's film which is best appreciated by adults. The first Netflix film to compete here, it's a Pig In The City yarn about a cute, intelligent genetically-engineered animal who is grimly destined for the oven despite her idyllic upraising in the Korean countryside.
Bong Joon Ho's Okja, a cross between an elephant and a pig, is a beautiful creature indeed. She runs and rolls, jumps into pools, crashes through shopping malls and, indeed, emotes with ease. She's a technical miracle, and a GM miracle for Tilda Swinton's nasty corporation which wants Okja to front its public relations-led overhaul before they carve her up for the table.
Bong sketches the story of a young Korean orphan girl (played beautifully by An Seo Hyu) who raises Okja and follows her to New York City in broad strokes and outsized characters, led by Swinton's dual role as feuding twins and a squeaky Jake Gyllenhaal as the Steve Irwin-style peronality who is the public face of the pig-breeding scheme. When the Animal Liberation Front, headed by a droll Paul Dano, gets involved, chase and capture sequences are geniunely entertaining in a mad-cap, haphazard way.
As unpredicatable as ever, Bong has delivered a meaty sermon here which stretches to pig rape and an interlude in an abbatoir: perhaps not something for a TV dinner when all those Netflix subscribers eventually tune in.
May 18
Jupiter's Moon
Jupiter's Moon is crammed full of ideas and energy. Not all of them work out, although they might have, with a little more discipline. Those that do blister throughout this story about a Syrian refugee who is gunned down in a Hungarian police state but wakes up with special powers to levitate. A film for specialised audiences, Kornél Mundruczó's follow-up to White God was the first film to attract boos from the Palais press corps (apart from the Amazon Studios logo before Wonderstruck, that is).
Likened by many to Children Of God, Jupiter"s Moon crams unexpected and effective action sequences into the hot-button issue of the callous treatment of refugees in Europe and shrouds it all with Jesus references - the levitating boy whose father is a carpenter and whose chief ally is a Judas-turned-Peter, etc.
Stern (Merab Ninidze) is a corrupt doctor working at a refugee camp and bilking its inmates to pay off his debts when encounters young Aryan (Zsombor Jéger) levitating after his gunshot wounds should surely have killed him. When Stern - an adroit performance from Ninidze - starts to use Aryan's powers to scam money off his wealthy patients, he is doggedly pursued by the violent officer who shot Aryan in the first place. The chase is on, literally, as crooked characters run for their lives, cars go into hot pursuit and our angel hovers over over it all, even turning a house upside down alongside his aerial rotation.
There's a sense that Mundruczó knows what his final sequence is, but isn't always sure how to get there, adding sequences instead of shaping the piece. The end result is an uneven, but occasionally inspired, film.
Wonderstruck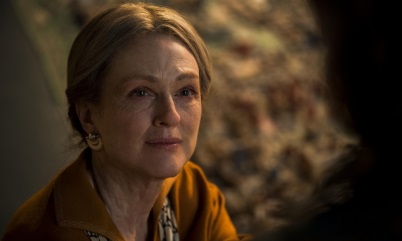 A shift of pace - for the festival and for Todd Haynes, who brought the artful children's film Wonderstruck to the Palais two years after the ravishing Carol. Comprising two interlocking narratives, from 1927 (in black-and-white and silent) and 1977 (full period colour and honkytonk costumes), it focuses on an 11 year-old boy who looks for his mysteriously absent father after the death of his mother (played in flashback by Michelle Williams). Back in 1920s New York, a young deaf girl longs for her silent movie star mother (Julianne Moore).
Even without knowing it's drawn from work by the same author as The Invention of Hugo Cabret, there are clear narrative and tonal similarities (a young boy alone, a hideaway in a beloved landmark, this time the Museum of Natural History). And, unsurprisingly, Haynes' auteurial hand is magnificently present, in wonderfully-etched sequences and miniscule, entrancing details down to the very filth on the floors of 1977's Port Authority bus station. He doesn't just build one perfect world, but two. Overall, though, while Wonderstruck is a patchily-striking film which finally gels together into an impressive conclusion, some narrative inconsistencies plague this ethereal piece.
The fact that the girl, played expressively by Millicent Simmons, and the boy Ben (Oakes Fegley), are, at least in part, deaf, gives Haynes the opportunity to play with sound and Carter Burwell's magnificent score, and the dialogue is sparse throughout. He mixes this aural entrancement with heightened 1920s visuals (including recreating a silent movie) and colour-popping 1970s West Side New York. Technically and artistically, it's fascinating. Commercially, it's an interesting prospect for Amazon Studios in the US - a luscious children's film best appreciated by savvy adult eyes.
May 17
Loveless
Amid tight security, and after the disappointment of opening film Ismael's Ghosts, Cannes 2017 Competition started powerfully: Andrey Zvyagintsev (Leviathan) delivered a scouring, corrosive portrait of middle-class Russia in Loveless, a brilliant film of snaking dread and despair. A couple who loathe each other barely notice when their 12 year-old son goes missing; each has a new partner and the child has become an obstacle in the way of their new lives.
Zvyagintsev slowly layers his detailed observations on this framework until the film, like Aarvo Part's coruscating pieces, sits under the skin of the viewer, who flinches at his forthright condemnation of his country. Shot around St Petersburg in mid-winter by Zvyagintsev's regular cinematographer Mikhail Kritchman, Loveless is beautiful, chilly, observational as the story gathers force. In its forthright final frames, it's also reminiscent of Jia Zhangke's recent, more political work.
Sold by Wild Bunch and already taken for the US by SPC, Loveless is an art house certainty – despite its chilly title. While it's an intrinsically Russian film, Loveless also feels like a statement for the global times we live in, with background noise noting tragic events in Ukraine which the characters barely notice.Two strong performances from Maryana Spivak and Alexey Rozin anchor the piece. The fact that it's the first film to play here may go against it, but Loveless is a clear contender for prizes on the last day.