Bag Of Flour
Dir: Kadija Leclere. Belgium-Morocco-France. 2012. 92mins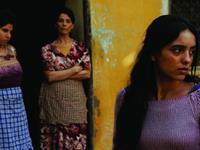 A gently powerful real-life story, Kadija Leclere's feature debut Bag Of Flour (Le sac de farine) is an elegantly shot film tracing the unusual life of a young woman from her early years in Belgium through to her times as an adult in a remote Moroccan town, featuring impressive performances from Hafsia Herzi and the always reliable Hiam Abbass.
Leclere has attracted a strong cast to this impressively shot and gently watchable drama.
The film traces the young life of Sarah, who is wrenched from her childhood in a Catholic orphanage in 1975 and summarily transplanted by her father to a village in the Atlas mountains of Morocco where is presented with a radically different life to the one she had grown used to. The film premiered at the Dubai International Film Festival.
As a studious child, Sarah (played as a youngster by Rania Mellouli) is a challenge to the nuns and makes weekly visits to the priest to confess, with her indiscretions mainly based around the fact that she has no mother or father. She is stunned when a man claiming to be her father arrives to take her to Paris, but things take a real change of direction when he drugs her and she wakes to find herself in remote Moroccan village.
With her father – who seems to have little interest in her - promptly leaving once again to look for work she is brought up by his sister Yasmine (another strong performance from Hiam Abbass) who cares for her as if she were her own daughter. She even takes Sarah to meet a woman she says is Sarah's mother. The woman – played by director Kadija Leclere) – is patently unwell and mutters that she has "no money and no flour".
The film that switches to follow an older Sarah (the terrific Hafsia Herzi) as she struggles against hunger and poverty before finding that she can make money through knitting and selling clothes. She is attracted to the rebellious Nari (Mehdi Dehbi), but also has to try and fend off a series of proposals of marriage before eventually finding that decisions are being made for her and she may well return to Europe.
Leclere – a former casting director for films such as Indigenes and Mr Nobody – first pitched this project at DIFF's co-production market Dubai Film Connection in 2007, and has attracted a strong cast to this impressively shot and gently watchable drama.

Production companies: Anga Productions, Sahara Productions, Tchin Tchin Productions
International sales: Anga Productions, severa.irgacheva@gmail.com
Screenplay: Kadija Leclere, Pierre Oliver Mornas
Cinematography: Gilles Porte
Main cast: Hafsia Herzi, Mehdi Dehbi, Hiam Abbass, Rania Mellouli, Smain Fairouze, Kadija Leclere