Benoit Jacquot's Farewell My Queen wins Louis Delluc Prize
Benoit Jacquot's French revolution drama Farewell My Queen (Les Adieux à La Reine) has won the Louis Delluc Prize for best French film in 2012, the awards presided over by Gilles Jacob announced on Friday.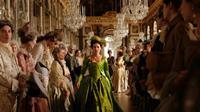 The film, starring Diane Krüger as Marie-Antoinette in the final days of Louis XVI's reign, was produced by Jean-Pierre Guérin of GMT.
Seven other titles were in the running for the prize: Michael Haneke's Amour, Oliver Assayas (Something in the Air ), Noémie Lvovsky's Camille Rewinds, Jacques Audiard's Rust and Bone Philippe Faucon's The Disintegration, Leo Carax's Holy Motors and Lucas Belvaux's 38 Witnesses.
Cyril Mennegun's Louise Wimmer, about a homeless woman striving to retain her dignity while living out of her beaten-up car won the prize for best first feature-length film in 2012. Bruno Nahon of Zadig Productions produced the picture.
The Louis Delluc Prize was created in 1937 to honour pioneering French cinema journalist Louis Delluc.